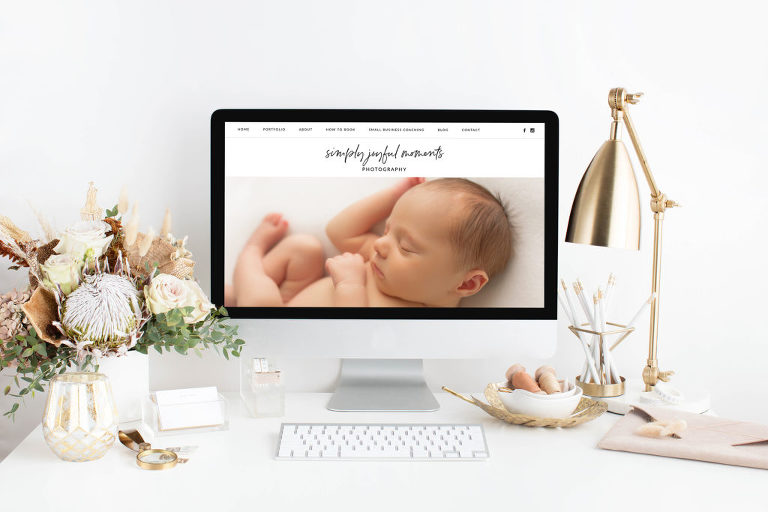 I'm so unbelievably excited that the new website is finally DONE and ready to share with the world!! The entire site has been completely redesigned, with YOU in mind! I wanted to make the new site streamlined and easy to navigate, and also true to the SJM brand.
If you are a past client, you may see one or more of your images throughout the site. It was so fun going back through past sessions and getting to see all your precious faces again!


session information and online booking
Ever wondered what it's like to be a Simply Joyful Moment's client? Want to know what to expect before, during and after your session? Now there is a TON of info about all of that and more! You can find pricing information and even book your session online right now! There is also a frequently asked questions page with even more info. And if you still can't find the answer to your question or if you just want to say hi, you can send me a quick message, and I will get back to you super soon. 🙂


client reviews
I am proud to say that client referrals are my largest source of new clients, and that is definitely what I strive for! I aim to make the entire process smooth, easy, and enjoyable. I not only want to provide clients with high quality when it comes to the photographs I take, but also in the service I provide. You can go to the client review section and read about what some recent clients have to say about their experiences.


portfolio pages
Now it is easier than ever to view my portfolio and see the style of images I like to capture. From maternity, newborn, milestone, and family sessions, each category has its own page where you can see multiple images from recent sessions.


all about the studio
Did you know that Simply Joyful Moments now has a 700 sq ft studio in historic Uptown Columbus?? The studio has a dedicated office space for consultations and gallery reveals, two separate shooting spaces, a comfortable seating area, coffee and snack bar, a full collection of maternity gowns (that all SJM maternity and newborn clients get to use for FREE!), and two full walls filled with newborn props, outfits, wraps, headbands, hats and blankets. You can read all about it and even see some pictures from a peek inside. I'd love to have you stop by and say hi!


and so much more!
The site is full of beautiful imagery and of course a ton of details about my sessions. (There's even a new About Me page where you can learn all about me – my not-so-little family, things I'm obsessed with, and even how I got started in this crazy world of photography!)
New blogs will also be released weekly with helpful content, information, and of course super cute snuggly babies! 🙂 Make sure you're on the SJM email list so you never miss a blog post and be first to know about any giveaways, specials, or VIP offers I send out!

I'd love to have you take a look around the site and let me know what you think!