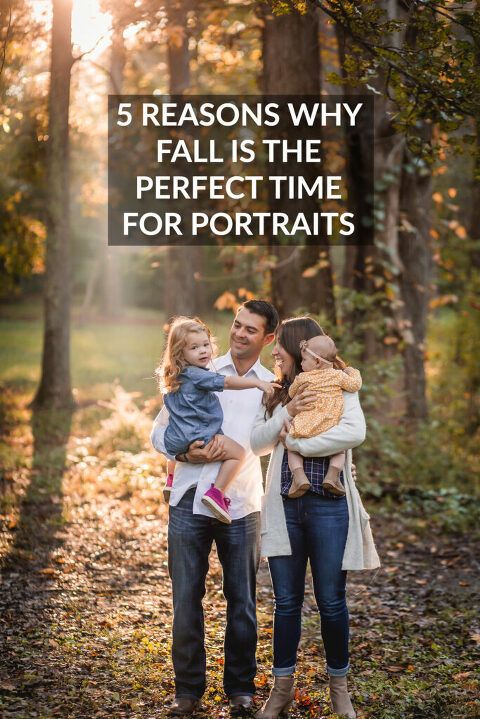 Can you guys believe that it's already almost mid August?!? So many kids (including my own 4) had their first day of school this week, Pumpkin Spice Lattes are coming back to Starbucks in just a couple weeks, and stores are in full fledged fall mode. And can you feel the slightest little chill in the air?? Ok maaaaaybe that's pushing it since it is 97 degrees outside right now haha 🙂
But regardless of it still being August, the fall season is creeping up fast and will be here before we know it! Yep, that's right, it's almost time for flannels and leggings and apple cider scented candles… and fall family portraits! Fall is SUCH a wonderful time to update your family pictures that are hanging on your walls (or if you don't have ANY hanging yet, then this is the PERFECT time to get some done!)
Don't believe me? Need some nudging? Well here are 5 reasons why fall is a great time to book those family portraits!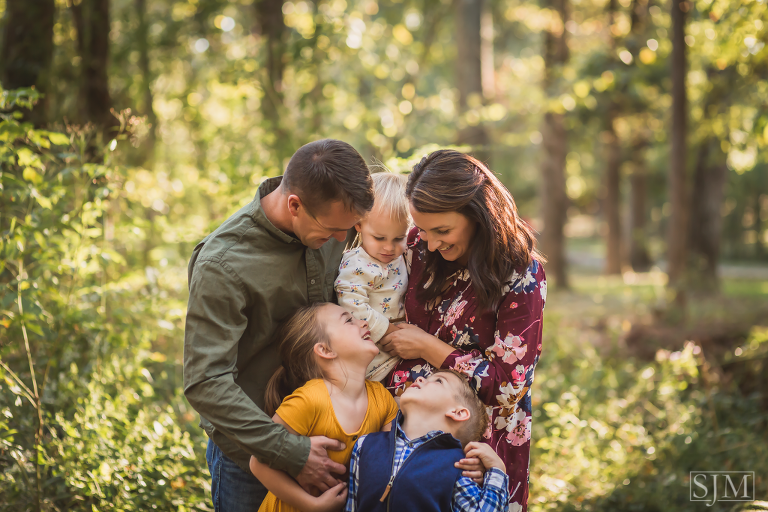 1. It's FINALLY cooling down.

Yeah I said it. I know it's hard to imagine anything other than these 90+ degree muggy sunny summer days right now, especially if you live in the deep south, but those cooler fall temps and even *gasp* chilly fall mornings will be here before we know it. This lets you take portraits without your face literally melting off and your hair poofing up from humidity.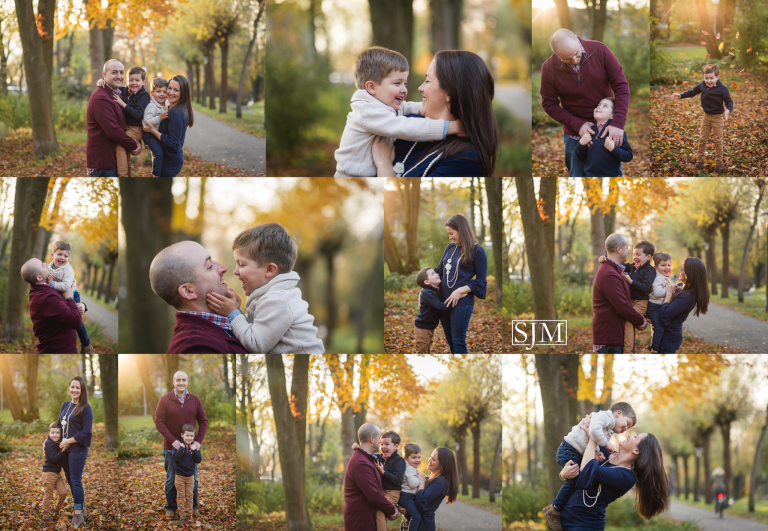 2. Cuuuuute clothes!!

Let's face it… fall clothes are SO stinkin cute!!! Chunky sweaters, knee high leather boots, sweater dresses for little girls and button-up long sleeved plaid shirts for boys… perfect for portraits! Plus all the soft neutrals and bold autumn jewel tones add the perfect pop to your pics.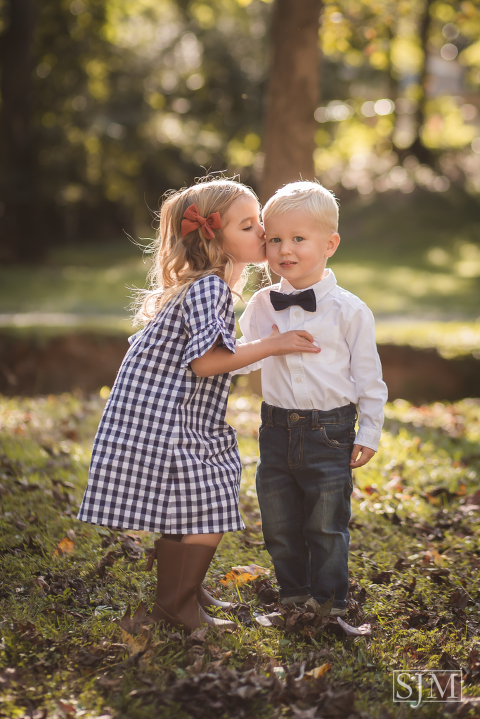 3. All the pretty colors!

I mean who doesn't think a maple tree in the fall turning from bright greens to warm yellows and fiery red oranges isn't one of the prettiest things ever?!? And yes, I know here in Georgia we don't get as many trees changing colors as say, Vermont, and the fall season is later and shorter than other places… but that doesn't mean that we don't get some pretty amazing changing leaves here. I have several spots that I love to use that have incredible colorful leaves during late fall.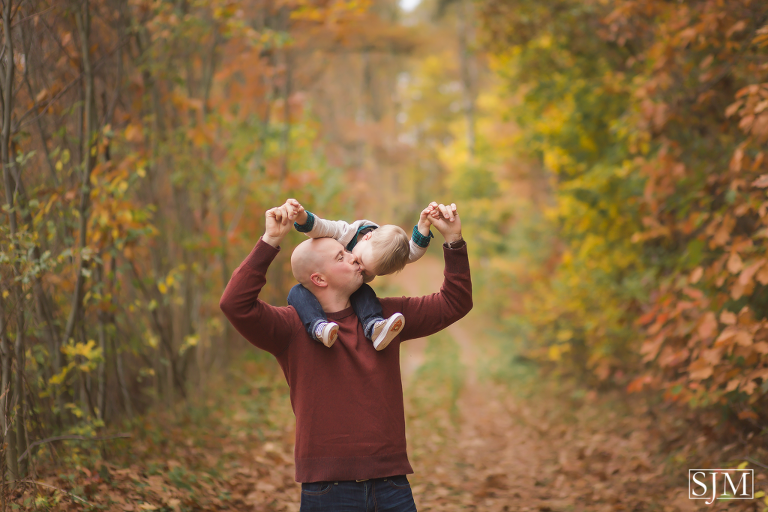 4. Earlier sunset means no more missing bedtime for the littles.

Photographers know that the best light is usually the hour prior to sunset. In the summertime, when sunset is as late at 9 or 10pm in some places, that means a very late start to an outdoor session. This can often mean trying to give your little one a late nap or trying to keep them up past their bedtime. Often this can lead to meltdowns and crying, and the kids usually aren't that happy about it either. 😉 Suffice to say, a session at 4 or 5pm usually works out better for most kiddos and families.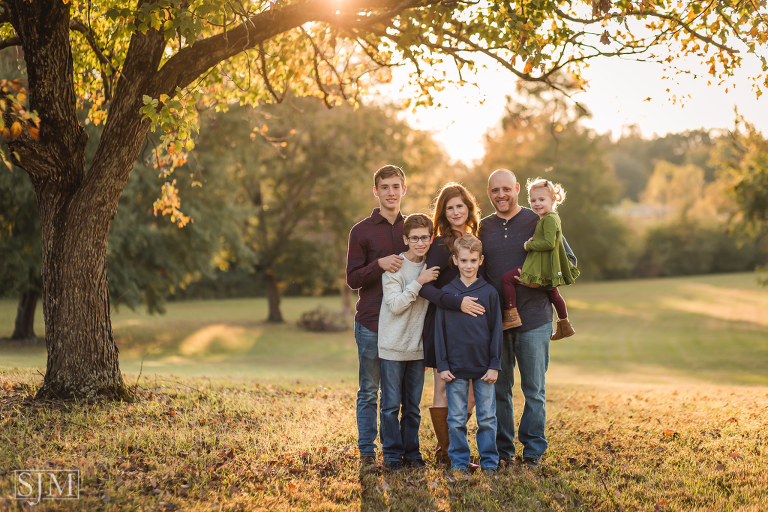 5. The MOST amazing warm golden Autumn light.

If only I could describe to you my love for autumn golden light. It's right up there with SoCal mexican food or a Friday night Friends marathon. There is just something magical about the evening light in fall… the way it glows even more gold than normal, the way it wraps everything in warmth as it reaches through the trees and falling leaves. I always say I wish I could bottle it up and use it year round 🙂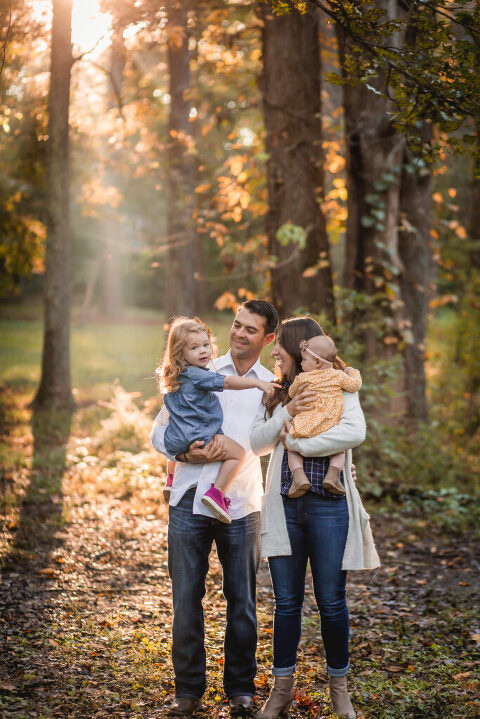 So there you have it. Five pretty awesome reasons why fall is the perfect time to update your family portraits… or have some taken for the first time. Let's get those moments and memories documented so that way you have them to look back on forever. Your kiddos will never be as little as they are right now, so bring the fall magic to them. Let them throw those leaves in the air and run through that incredible golden light in their adorable sweaters and dresses.
Reach out and book that family session. You'll be glad you did.